Some of life's biggest moments happen in hospitals:
People are born, people are cured from awful afflictions or saved from the brink of death and, sometimes, people die. During these pivotal moments, the furniture is probably the last thing on the minds of patients and their friends.
However, the furniture does impact the experiences of people in hospitals, from patients and their loved ones to doctors, nurses and non-medical staff. Aside from simple aesthetics and comfort, North and South Carolina medical facilities must take several practical considerations into account when selecting furniture.

Waiting Room & Reception Area Furniture
---
The most tedious part of being a patient is waiting. First is the wait in reception to get checked in, followed by another block of time spent in another room waiting to be seen. Waiting room chairs, sofas and tables set the tone for the rest of a patient's visit. That's why North and South Carolina hospitals and doctors' offices have to choose their lobby and lounge furniture carefully.
For one thing, hospital furniture needs higher-end upholstery. Due to the high volume of people using the furniture in medical facilities, the upholstery must be durable to outlast the added wear-and-tear. And because many of those people are likely suffering from illness or injury, the furniture coverings must also be antibacterial and waterproof or spill proof. The most popular options include medical-grade upholstery options and bariatric seating styles to ensure that all patients are comfortable during their wait.
---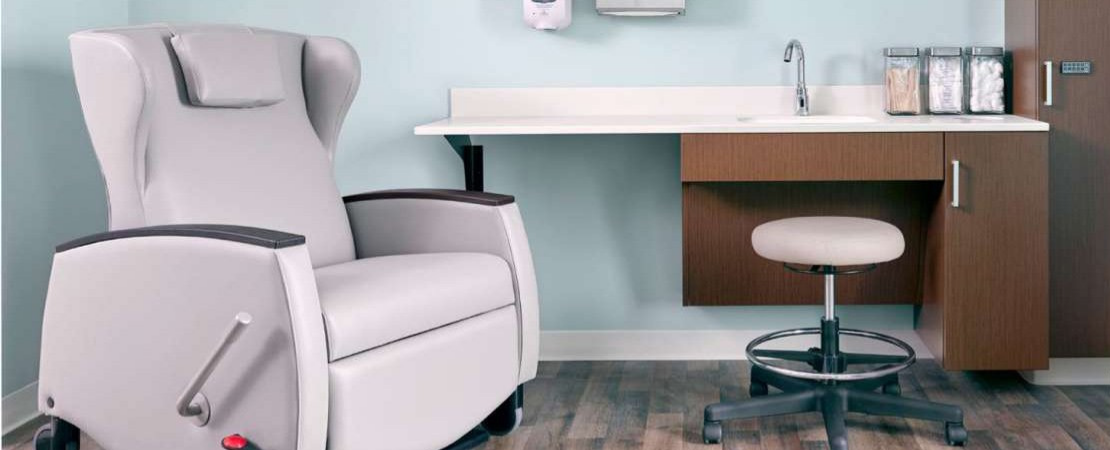 Patient Room Furniture
---
From exam tables to in-room beds and bedside items, a key feature of hospital furniture in patient rooms is ease of use for patients and caregivers. Everything in patient rooms has to enable medical personnel to do their jobs properly; the furniture cannot get in the way of care. What's more, all of the furniture–exam tables, chairs, and work surfaces–needs to be easy to clean and sterilize.
Aside from mere functionality, patient room furniture also requires an element of style. Whether patients are in for a quick checkup or a long hospital stay, a pleasant and inviting room alleviates their anxieties and provides a serene space for medical care.
---

Administrative Furniture
---
Though patient care is the primary focus, hospitals can't run without the administrative side of the health care business. Hospital administrative staff fulfill essential roles and need furniture systems created to maximize efficiency. From cubicles and benching to offices and board rooms, the administrative aspect of the hospitals requires furniture designed with productivity in mind.
Most physicians have private offices where they take care of the paperwork that goes along with their profession. Doctors and mid-management need offices with task-oriented ergonomic furniture. The offices and conference rooms of upper level executives need that fit the demands of a hospital office environment.
---

Laboratory Furniture
---
The behind-the-scenes areas of hospitals are no less important. Hospital labs are the hubs of research and diagnostics. Labs depend upon durable and flexible furniture solutions that combine efficiency with utility. Medical-grade and bactericidal equipment is critical for the safety and productivity of laboratory staff. In fact, antibacterial work surfaces are also crucial for hospitals and doctors' offices to maintain their high standards for cleanliness and to prevent exposure to germs.
---
We're your hospital furniture experts.
Naturally, health and safety are a top concern in selecting hospital furniture, but they aren't the only concern. The general appearance and the feel of the furniture help to set the mood of an interior. One top of that, many medical facilities strive to maintain one cohesive style throughout the whole of the facility, as well as at any branch facilities, to provide consistency to patients and employees alike.
Our clients know they can depend on us for long-lasting quality that provides the most value for their budget.
Do you need help?
---
---
Would you like to speak with someone about furnishing your hospital or medical practice? Call (843) 662-1563, or click here to get in touch.
---